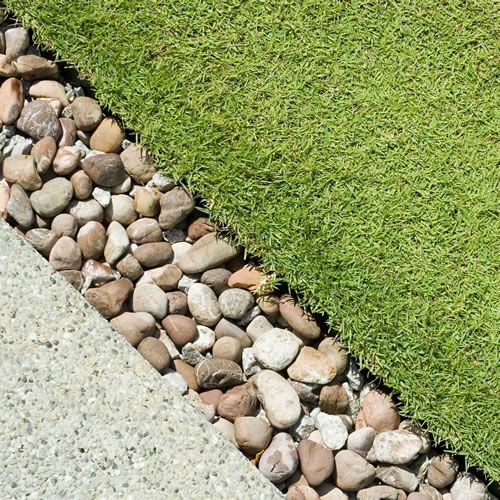 Pebble Garden Edging: The Ultimate Guide For Every Gardener
Natural beauty is always appreciated no matter what you choose to decorate. This rule applies to your stunning backyard as well. Every gardener wants their lawns and plant beds to have beautiful finishing touches. One important aspect of gardening and landscaping involves garden edging. Garden edging is what makes the borders of your garden shine – it brings every element of your front yard to the limelight. Adding borders or fences makes parts of your garden stand out, making them noticeable to all of your house guests or passers-by. But how do natural beauty and garden edging come together? That is where pebble garden edging comes in. 
See, natural stones are what give authenticity to gardens. They speak of Mother Earth. They remind us that our roots are tied deeply within nature and that simplicity elicits gorgeousness. 
Among all types of stones, pebbles are the easiest to find, collect and source from anywhere. Their variety is a bonus. Hence you can find any pebble you like, of any shape and size. 
In this article, we'll take a look at how to navigate pebble garden edging and give you tips and ideas. This way, you'll learn so much more about garden edging and various materials that suit your preferred landscape.
How To Do Pebble Garden Edging
Preparing Your Garden
Clear up the necessary space for your garden. You need to make sure your garden has sufficient space to place pebbles around the edges. How do you do this?
You take a look at gardens on the Internet by doing some quick surfing or you visit your nearby pebble gardens to catch a glimpse. Observe how they layer their pebbles and what kind of patterns are used.
Measure the size of your plant bed and see if your pebbles take up too much. You must have the correct proportions and dimensions – otherwise, you'll end up buying fewer pebbles than you thought you needed.
Once you're done deciding the amount of space necessary for your plant bed and the garden edging, clear up the necessary space. How do you do that? By plucking out weeds and unwanted grass from the area. Edges need a smooth finish and without that, the highlights necessary for polishing your plant bed are not in full view.
Make sure you're wearing safety gloves and proper cautionary equipment to keep yourself safe. If you're using hedge trimmers (electrically powered) or a weed wacker this is more essential than you think it is. Cuts and other injuries are quite common and you never know when you get attacked by pollen or develop a dust allergy.
Taking out roots, especially from flowers growing beneath the pebbled area, is crucial. This is so that the flowers don't grow between the pebbles and ruin the edges.
If you're worried you will mess up the whole process, one pro tip is to get a weed mat or a landscape fabric and lay it down. This guarantees a smooth base of soil or grass or pavement so that nothing grows underneath the pebbles. There are many types of weed mats available in the market, many of which are biodegradable. We recommend getting a biodegradable mat as our goal is to protect the environment and prevent further adverse effects that push our world towards climate change.
How Do You Choose The Pebbles For Pebble Garden Edging?
Look around your local shops to see what kind of pebbles they offer. From pet stores and pool stores to simple lawn maintenance stores, pebbles are everywhere. If you live close to the coastal areas, you're likely to find a greater variety of pebbles in size, shape and patterns, but you'll find good pebbles that suit your preferred colour scheme or theme for your house.
There are various types of pebbles to choose from. Let's look at a few:
Granite pebbles:
These are usually red and pink and have varying shades of these two colours. 
Marble pebbles:
If you're someone who's looking for more fancy pebbles with a sophisticated and elegant touch, then marble pebbles are for you. Their range of colours includes brown, black, white, pink and yellow. An odd mix, don't you think?
Limestone pebbles:
These are the more natural pebbles that you see everywhere. They have a far more authentic and down-to-earth aura. They might seem similar to marble pebbles but they have a stark contrast in terms of texture and feel. You'll find black, white, tan and brown limestone pebbles. 
If you're looking at pebbles in streams or around riverbeds, make sure you consult local natural preservation or wildlife preservation authorities and ask their permission before you take any stones.
But the colour isn't the only metric via which you should try and figure out which pebbles are the best fit for your backyard. Get the feel and shape of your pebbles – flat, elliptical, rough and round are all different textures. Have a mix and match of all of these shapes and sizes to bring variety to your plant bed. This process is called creating a pebble mosaic, and you'll have loads of fun experimenting with the shapes and shades.
Once you're done selecting your choice of pebbles, it's time to consult your landscaper about a landscape design that best incorporates these pebbles. 
The last step is to ensure that your pebbles are transported correctly. If your landscaper or pebble shop can't do it for you, it never hurts to bring a wheelbarrow that quickly transports these to your home. Don't try and be stoic and carry all of these pebbles back home in fragile bags all alone – it never hurts to ask for help.
Conclusion
Pebble garden edging is a productive way of learning more about the gardening process and how much effort it takes for something as simple as edging to be refined. But what it also teaches you is that it's worth the effort. The natural beauty pebbles elicit makes your garden more beautiful than it ever was. We hope you found this guide useful and if you have any more questions, leave them in the comments below.