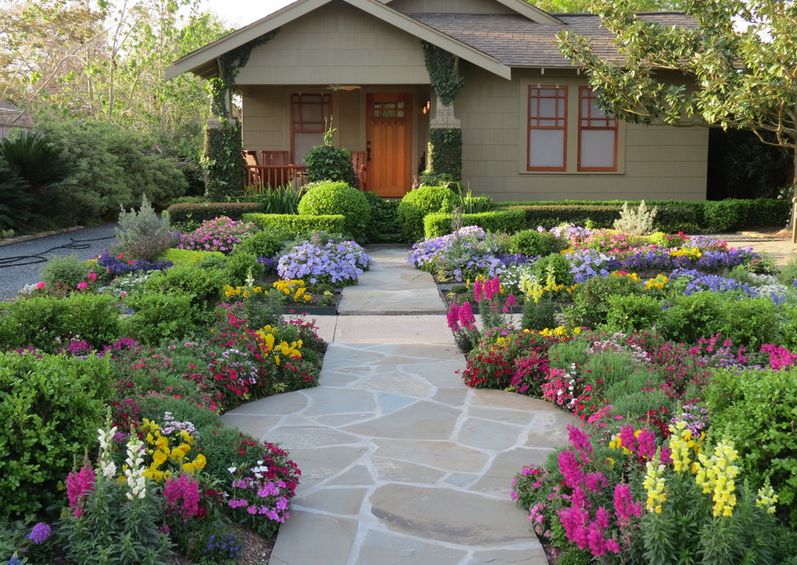 A to Z Front Yard Landscaping Design Guide
Introduction
Planning your own landscaping design is a brilliant choice – economical even. But, not having enough knowledge about landscaping can quickly turn your passion project into a disaster. But, don't you worry. With some basic knowledge of colours and structure, you can ace this challenge too. That's why we are here to help you.
In this article, we are explaining front yard landscaping designs in detail. We will discuss some common mistakes and give you some smart tips and tricks so you can do your own landscaping comfortably.
So what are you waiting for? Let's get started.
What is Front Yard Landscaping?
Yard landscaping is an age-old technique of making your yard more suited to your needs. People all over the world pride themselves on the unique landscaping design they come up with.
It uses stones, pebbles, trees, hedges, fences, and sometimes even water bodies to make the yard more functional. The art of landscaping is so widespread, there are whole industries and businesses providing landscaping services.
But that is not always necessary. With some knowledge and research, you can plan and maintain your yard by yourself. And we are here to help. Let's get started.
Common Mistakes in Front Yard Landscaping
The most important part of your landscaping should be avoiding rookie mistakes. Some simple miscalculations and preconceived myths can ruin even the most well-planned yard.
Here are some common landscaping mistakes you should be looking out for-
Haphazard Placement
Let's be honest. Planting is addictive. It is entirely too easy to plant too many trees in a small space. When your plants are just saplings, they don't take up much space. And many people don't take into consideration how big a sapling can get.
You want your plants to be strong and healthy. Give your plant babies ample space to grow into.
Placing the trees in the wrong spots is another widespread and consistent mistake. Most new gardeners and lawn enthusiasts become obsessed with designing that they forget every plant has different needs.
Read the requirement for your specific plant – how much light and shade is needed. And place the plant accordingly.
Cutting Grass Too Short
We cannot stress this enough – shorter grass does not mean less mowing. You can hurt your grass by doing that. Especially if you have non-self-repairing patches in your yard, cutting it too short will result in a bare patch.
Exposed patches are an invitation to insects and diseases too. The ideal length to take off of your grass is around one-third of the blade. And, as a rule of thumb, during the summer months, mow your grass higher for shade.
Not Considering Artificial Lighting
Yes, ye do want your landscaping to look like a beautiful painting under the warm sunlight. So, you go ahead and buy beautiful, friendly flowery plants.
You buy some tall pots for some added splendour. You put them around your smaller shrubberies for framing.
They look great.
But then comes evening. When you turn on your artificial lights, nothing looks the same anymore. The light post behind your tall planters casts a shadow so big you can't see low-lying flowers at all.
This is a very common mistake. Most people only plan their landscaping designs influenced by sunlight. But you also need to keep the exterior lighting in mind.
Your plants and ornaments must be placed in a way that looks good at all hours of the day.
Now that you know what to avoid let's discuss what to indulge in. There are some smart planning tricks that you can use to make your landscaping design unique and functional.
Here are some tried and true tricks:
Mismatched Planters
Have fun with the plants and pots. There is beauty in uniformity. But modern designing techniques mix things up a bit. Use planters of different sizes.
Larger pots make a statement, you can put them at a focal point of the lawn. And use smaller plant pots around cement structures for framing. Planters are also a great way of bringing vibrant colours to the landscape.
Pavement Designs
The entryway to your yard is the best place to get innovative. Modern lawn landscaping designs sport grass in-sets, rock pavements, and so much more.
Grass in-sets in between the stepping stones looks natural and polished. The rock in between the stepping stones looks rustic and cosy. You can even take it a step further and add wood blocks as stepping stones between rock and grass.
Planning the Colour Scheme
The worst time to choose the colours for your yard is when you are already in the nursery. Nurseries have an abundance of colourful plants. But that doesn't mean all of those colours will look good on your lawn.
Decide on a colour palette before you plant shopping. You can find sample colour palettes on the internet very easily. Look through some samples and tweak the colours.
Light, minimalistic colours are the modern trend in landscaping. You can even add dark flowers to create contrast here and there.
And, once you have your colour scheme finalised, go ahead and have fun with plant shopping!
Highlight the House
If you don't want to pore over colour schemes hours on end, there is an easy way out. Look at your house. What colours are the most prominent? Do you have fun coloured fences?
Take cues from that and invest in flowery plants of the same colour family. This will both highlight the design structure of the house and look coherent. This way, you don't have to worry about the colours clashing.
Final Verdict
If you have read this far, thank you so much for coming along. We know how important landscaping is to the overall look and feel of your house. It lets your home become more lively and cosy.
So, we hope with the knowledge from our article, you will design the perfect front yard landscaping plan for yourself. We wish you all the best and good luck!